146 cms - Born 1997 | Licensed Weser Ems Studbook Germany and SPSS UK | DUAL GOLD MEDALIST FOR ENGLAND
Bernwode Brokat was approved and licensed with Weser Ems Studbook, the German Oldenburg studbook for ponies. He sired one foal, born in February 2001, before being imported to Great Britain as a three year old in 2000.
During 2001 Brokat began his ridden career under twelve year old Louise Crutcher with the help of trainer, Michael Beining.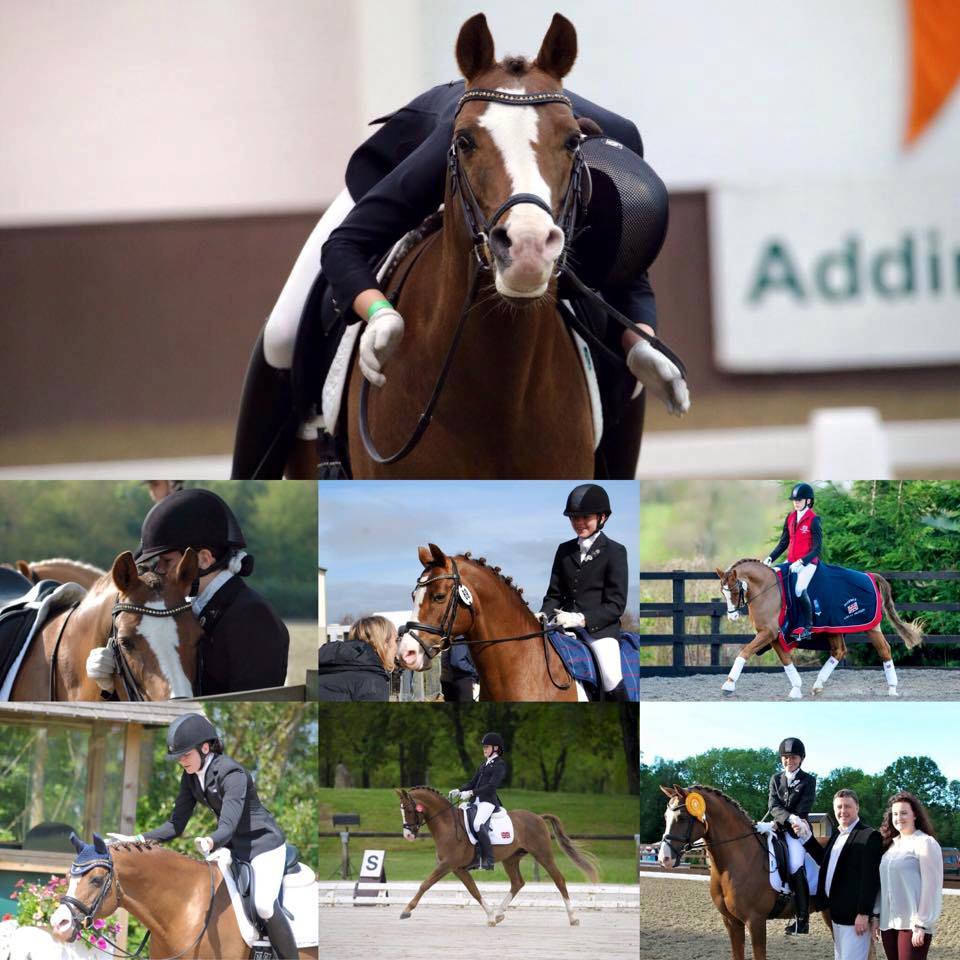 Brokat won his first attempted affiliated dressage competition in January 2003 setting the pattern for an excellent season. Having won the selection trials for Blarney Dressage Festival in Ireland, Louise and Brokat went on to represent England at this event, not only helping their team to Gold Medal victory but also taking the Individual Gold Medal on 73.5%.
In 2004 Brokat competed his first FEI Team test at the Addington Premier League show. In a large class of established FEI ponies he finished in 5th place ahead of two former European Team ponies! On returning home he covered a waiting mare to end a perfect day!
Despite not having a regular rider since early 2006 and so only being ridden and competed infrequently, Brokat qualified for the 2007 Winter Regional Championships and was the only pony in his class!
Bernwode Brokat boasts an outstanding temperament, good conformation and excellent jumping ability which, combined with his wonderful paces and proven pedigree ensures a 'top class' sire of sports ponies. Bernwode Brokat is approved for breeding in the UK by the Sports Pony Studbook Society (SPSS).
In 2003 he was promoted to 'permanently graded status' with the SPSS on the strength of the quality of his offspring and successful competition career. He attracted a growing number of mares during the past five stud seasons, achieving a good record of pregnancies from one insemination.
The stud is delighted with the quality and athletic ability of these youngsters all of whom have inherited their sire's movement and delightful temperament. Details of Brokat's offspring can be found here.
In 2006, Brokat's eldest son, Bernwode Benedict, successfully licensed with the SPSS. Also in 2006, one of Brokat's 2 year old sons was awarded a First Premium at the British Breeding Futurity and was Reserve Champion 2 year old Pony at the Final.
In 2007, all of Brokat's entered stock achieved First Premiums in the Futurity Series! Several of these children can be seen lower on this page.
Bernwode Brokat's bloodlines trace back to some of our superb Welsh ponies such as Bwlch Hill Wind. He also carries the time honoured Downland blood found in so many of the most successful ponies in both Great Britain and mainland Europe.
Brokat's sire Brillant was one of the most prolific sires of successful dressage and jumping ponies in Germany, having competed himself to a high level in both disciplines in open classes. For three consecutive years he was the top sire of German dressage ponies and within the top three sires over a period of six years! He is famous for passing his kind, easy temperament and athletic sporting ability to his children. Brillant sired many State Premium daughters and a remarkable total of thirty four licensed sons. Sadly this wonderful sire passed away in 2004.
Cornelia, Brokat's dam, is by the notable pony stallion Diamant II who won a Gold Medal for Germany as a member of the 1982 European Pony Dressage Team in Copenhagen. He too has sired many approved sons and State Premium daughters. Interested mare owners should email or telephone the stud if they would like to discuss terms or visit the stallions.
Somerset, BA22 8QZ, UK
Email: bernwode@ukonline.co.uk | Tel: +44 (0)1935 840029